KET Marine @ IMPA London 12-13 September 2017!
Dear all,
We herewith kindly inform you that in following of the summer period, we will be exhibiting at the IMPA London 2017 in the beginning of September!
On Tuesday the 12th and Wednesday the 13th of September, KET Marine will present its latest products and innovations from Stand No. 57 at the Queen Elizabeth Conference Centre in Westminster, London!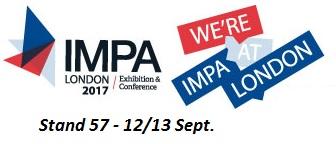 Please come and visit us! We look forward to seeing you there!
Kind regards and enjoy the summer!
KET Marine